2022 Clinical & Scientific Conference March 14 Highlights
By Sujatha Gurunathan | Monday, March 14, 2022
Today was the first full day of sessions of MDA's 2022 Clinical & Scientific Conference. For the first time since the start of the COVID-19 pandemic, clinicians, scientists, policymakers, nonprofit, and industry leaders are convening, primarily in-person, for a dynamic and informative five days in Nashville, TN. With more than 975 in-person and 490 virtual attendees and mix of 173 in-person and 84 virtual presentations and posters, this is one of MDA's largest conferences ever. Also participating in-person or virtually are 62 industry exhibitors, 30 non-profit partners in the Patient Advocacy Pavilion, 50+ international attendees, and 42 advocacy organizations.
The major theme for today's sessions was "Lab to Life." This refers to the sequence of events from basic and clinical research to the development of therapies and other interventions that improve health outcomes and quality of life of people living with neuromuscular disease (NMD).
Highlights
Industry forum breakfast sessions
In the early morning industry forums, Edgewise Therapeutics and NS Pharma presented information about new therapeutics. Edgewise's investigational drug to treat Becker muscular dystrophy (BMD), EDG-5506, is an oral small molecule muscle stabilizer, which decreased markers of muscle damage in adults with BMD in phase 1 clinical trials. NS Pharma's investigational drug to treat Duchenne muscular dystrophy (DMD) amenable to exon 53 skipping, Viltepso, received approval from the US Food and Drug Administration (FDA) in Mar. 2020. Safety and the appropriate usage of this therapy were addressed in the industry forum.
Opening remarks and keynote address
The conference officially kicked off at 9:30am CT with opening remarks from MDA President and CEO Dr. Donald Wood.
"We are on the cutting edge of developing approaches that have never been seen before," said Dr. Wood of the evolving therapeutic landscape for NMDs. He stated that new understanding of genetic causes of NMDs and implementation of more flexible clinical trials designs to study ultra-rare diseases have enabled development of new therapeutics for NMDs. "It's a whole new area of medicine."
Following his remarks, Dr. Wood introduced MDA National Ambassador, Amy Shinneman. Amy, who is living with the rare condition Bethlem myopathy, spoke about her life and diagnostic journey.
"Growing up, it was difficult hearing the term unidentified, over and over again," said Amy in reference to her condition. Despite a range of symptoms in childhood and into adulthood, Amy was not diagnosed with Bethlem myopathy until the age of 44. She spoke about the stages of her life, including her experiences as an MDA camp counselor and college student, becoming a wife and a mother to two boys, and the fulfillment of completing marathons with her husband. She went on to emphasize the importance of sharing stories about life with NMD, which she does in her blog Humbly Courageous.
"I wasn't always as accepting of my disease as I am now," she said, expressing how her unidentified condition left her feeling disconnected from her peers. She went on to say that she hopes her stories will reach other people with NMDs, helping them to feel less alone. Amy ended by stressing the importance of sharing stories with the research community. "For change to happen…we need to collectively share our stories… Together we fight."
Amy then presented the first ever MDA Legacy Award for Excellence in Clinical Research to Dr. Carsten Bönnemann, senior investigator and chief of the Neuromuscular and Neurogenetic Disorders of Childhood Section at the National Institute of Neurological Disorders and Stroke (NINDS), for outstanding achievement in neuromuscular disease research or care.
Dr. Bönnemann was bestowed the Legacy Award because of his considerable contributions to the field of neuromuscular disease research, including:
Identifying genetic causes of limb girdle muscular dystrophies (LGMDs)
Elucidating molecular pathways and developing preclinical models for congenital muscular dystrophies such as Bethlem myopathy
Using genomic technologies to discover new disease-causing genes in children with complex neuromuscular conditions
Establishing natural history and outcome measures for use in clinical trials for congenital myopathies
Conducting the first gene therapy trial for giant axonal neuropathy in humans
Upon acceptance of the Legacy Award, Dr. Bönnemann provided the conference's keynote address. In this address, he emphasized the use and importance of genetic discoveries to guide precision medicine, specifically development of targeted therapeutics, gene therapies, and robotic interventions that can help manage NMDs. Dr. Bönnemann went on to say that gene discovery and translation into precision medicine is a global team effort that benefits from information sharing in a centralized database.
At the conclusion of the opening session, Angela Lek and Sharon Hesterlee from MDA, presented certificates to MDA's 2021 Development Grantees: Xin Jiang, Narendra Jha, Daniel Calame, Jaesung You, Alba Timon-Gomez, Junio Dort, and Frederick Arnold.
Latest developments across the NMD registry data landscape
This session detailed efforts to collect real-world data in NMD and apply it to   therapy development.
Rayne Rodgers, MPH, director of Patient Advocacy at Kinevant Sciences and former vice president of neuroMuscular ObserVational Research (MOVR) at MDA, spoke about the MOVR patient registry, which captures clinical data from people with seven different NMDs who are receiving treatment at participating MDA clinics. Rayne highlighted a use case of MOVR data, in which MDA worked with a pharmaceutical partner to help find eligible participants for a phase 1 clinical trial. Through this clinical trial matching, the study was fully enrolled within 72 hours.
Then, Elisabeth Kilroy, PhD, director of MOVR at MDA spoke about exploratory analytics being performed with MOVR data. One analysis determined that 95% of MOVR participants with amyotrophic lateral sclerosis (ALS) were receiving one of the three FDA-approved therapies to manage their disease. Follow-up analyses in this example looked at preferential use of each approved therapy for use in bulbar vs. non-bulbar ALS.
Nicholas Johnson, MD, MSCI, FAAN, associate professor, division chief of neuromuscular, and vice chair of research in the department of neurology at Virginia Commonwealth University, spoke about the MD STARnet, a multi-site surveillance system for muscular dystrophy funded by the Centers for Disease Control and Prevention (CDC).  MD STARnet has collected population-based information on people with DMD and BMD for two decades from medical records and interviews/surveys. More recently, MD STARnet has added additional NMDs and additional survey questions, including questions about COVID-19, the flu, pain, fatigue and pregnancy, to its data collection.
Russell Butterfield, MD, PhD, associate professor in the Departments of Neurology and Pediatrics at University of Utah, then spoke about published findings based on MD STARnet data. One recent finding was the estimated prevalence of 5-9 year old boys with DMD/BMD, which ranged from 1.9-2.4 in 10,000 males. Future uses of the MD STARnet data include study of the mortality/survival of boys with DMD, determination of a diagnostic timeline in boys with DMD, and estimation of prevalence and survival in other muscular dystrophies.
Next, Alexandre Bétourné, PhD, PharmD, PMP, scientific director at the Critical Path Institute spoke about their Rare Disease Cures Accelerator – Data and Analytics Platform (RDCA-DAP), which promotes sharing of rare disease data by putting the data in a standardized format and making it easy to find, access securely, and analyze. The goal of RDCA-DAP is to maximize use of the data for targeted drug development.
Sarah Emmons, director of Global Patient Outreach & Community Strategies at the Jain Foundation, provided an introduction of this scientific organization focused on orchestrating a cure for dysferlinopathy. She spoke about the basic research being conducted at the foundation and about the Dysferlin Registry, which has been collecting patient data for 16 years. Their goals are to identify genetic causes of dysferlinopathies, to connect patients, and to help overcome barriers to clinical trial recruitment.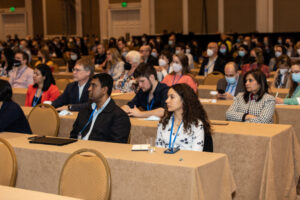 Allison Moore, founder and CEO of HNF, spoke about development of the Charcot-Marie-Tooth (CMT) Mobile App. This app measures patient-reported outcomes and provides access to private communication with experts and other resources. The goal is to translate the patient voice into real-world data and then allow sharing of de-identified data for research.
Industry forum lunches 
Representatives from Biogen presented about their clinical trial program and the latest real-world evidence for their spinal muscular atrophy (SMA) therapy SPINRAZA ® (nusinersen). Representatives from Pfizer provided an overview about the unmet needs of people with NMDs and therapeutic strategies being used to treat these diseases, including epigenetic modifications (chemical signals added or taken away from the DNA), gene editing, and gene therapy. Representatives from Sarepta covered signs and symptoms that can help with early diagnosis of children with DMD.
Lab to life: LGMD
Nicholas Johnson chaired this session and provided an overview of LGMD and some know genetic causes of the various forms of this disease. The session reviewed advances in translational research in LGMD. Speakers discussed steps to improve genetic diagnosis, development of small molecules, and advances in gene replacement therapy. Conrad Chris Weihl, MD, PhD, professor of neurology for the Hope Center for Neurological Disorders, spoke about the importance of resolving variants of unknown significance (VUS) to establish a genetic diagnosis for patients and improve their care. He introduced the clinician-geneticist-research partnership known as Clin-Gen, as well as a new methodology for VUS curation. Qi Lu, PhD, MD, director of the McColl-Lockwood Laboratory for Muscular Dystrophy Research at Atrium Health presented his research into underlying causes of LGMD and Melissa Spencer, PhD, professor of Neurology, director of the Neuromuscular Program, and co-director of the Center for DMD at the David Geffen School of Medicine at UCLA presented her preclinical studies of a gene therapy strategy for LGMD2A.
Lab to life: FSHD
Jeffrey Statland, MD, professor of Neurology at the Kansas University Medical Center chaired this session and presented an overview of facioscapulohumeral muscular dystrophy (FSHD). There are two forms of FSHD, FSHD1 and FSHD2. FSHD1 is more common and is caused by genetic mutations that result in overactivity of the DUX4 gene.  Stephen Tapscott, MD, PhD of the Fred Hutchinson Cancer Research Center spoke about the Seattle Wellstone study, which is using the results of MRI studies, muscle biopsy, pathology, and DUX4 levels to define molecular correlates for different stages of FSHD. Peter Jones, PhD of the University of Nevada, Reno, School of Medicine, spoke about strategies to reduce or eliminate DUX4 expression at the DNA, RNA and protein production levels. Michelle Mellion, MD, executive medical director at Fulcrum Therapeutics, spoke about using patient-derived computer models of FSHD and screening of small molecules to identify drug candidates for reducing DUX4 activity. Using this system, Fulcrum identified the investigational drug losmapimod, which is currently in phase 2 clinical trials, with the REACH phase 3 trial planned for Q2 of 2022.
Additional sessions from today included:
New Gene Discoveries in NMD
Lab to Life: MG
Functional/Patient Reported Outcomes/Composite Clinical Trial Endpoints in DMD
Lab to Life: Congenital Myopathies/Dystrophies
Best Practices in Respiratory Care
Disclaimer: No content on this site should ever be used as a substitute for direct medical advice from your doctor or other qualified clinician.