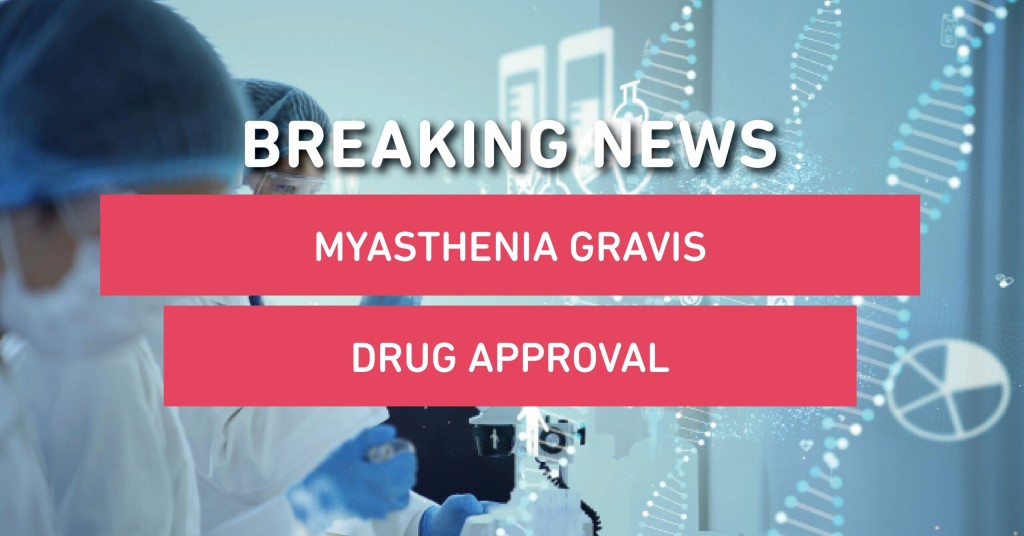 FDA Approves argenx's Vyvgart for Treatment of gMG
By Sujatha Gurunathan | Monday, December 20, 2021
On Dec. 17, the US Food and Drug Administration (FDA) granted approval to efgartigimod (Vyvgart) for the treatment of generalized myasthenia gravis (gMG) in adults who test positive for the anti-acetylcholine receptor (AChR) antibody. To date, Vyvgart is the second disease modifying drug approved to treat gMG. Vyvgart will be made available in the United States and marketed by argenx.  
There is currently no cure for gMG. Recommended treatments for gMG include drugs that may alleviate symptoms, such as cholinesterase inhibitors, or treatments that may alter the disease course, such as immunosuppressive drugs or surgery (thymectomy). In October 2017, eculizumab (marketed by Alexion Pharmaceuticals, Inc) became the first disease modifying drug approved by the FDA to treat gMG. Eculizumab was approved for adults living with the gMG subtype known as acetylcholine receptor antibody-positive (AChR ab+) gMG, which affects 80-90% of people with gMG. With the current approval of Vyvgart, adults with AChR ab+ gMG have a new option in their therapeutic arsenal. 
"The approval of Vyvgart is a significant step forward toward treating gMG, a disease that, up until a few years ago, had no approved therapies," says MDA's Executive Vice President, Chief Research Officer Sharon Hesterlee, PhD. "Now those living with AChR ab+ gMG will have the choice of another effective disease modifying therapeutic."
MG is an autoimmune disease of the neuromuscular junction. It is caused by autoreactive antibodies that destroy the communication between nerves and muscle, resulting in weakness of the skeletal muscles. Vyvgart is designed to reduce the number of antibodies in the body, including the autoreactive antibodies that cause gMG. Although treatment with Vyvgart will not cure gMG, it could lead to functional improvements that improve the daily life of individuals with gMG. Efgartigimod is also being evaluated for the treatment of people with other autoimmune diseases caused by autoreactive antibodies.
Clinical trials support approval of Vyvgart 
The FDA based its decision to grant approval to Vyvgart on the positive results of the phase 3 ADAPT (NCT03669588) trial, which evaluated the safety and efficacy of Vyvgart in 167 adults with gMG living in North America, Europe, and Japan. 
Efgartigimod was generally well-tolerated in trial participants, with a safety profile comparable to that of the inactive placebo control. The trial met its primary endpoint, demonstrating that Vyvgart treatment of people with AChR ab+ gMG resulted in clinically meaningful improvements in symptom severity, as measured by the Myasthenia Gravis Activities of Daily Living (MG-ADL) score. After completing the ADAPT trial, 90% of participants entered a three-year, open-label extension study called ADAPT+ (NCT03770403), which will evaluate the long-term safety and tolerability of Vyvgart. ADAPT+ is expected to finish in mid-2023.
About Vyvgart
Vyvgart is designed as a first-in-class antibody fragment that targets the neonatal Fc receptor (FcRn). This receptor helps to keep antibodies in circulation; its targeting by Vyvgart is therefore designed to reduce the total number of antibodies in the body, including the autoreactive antibodies that cause gMG.
To learn more about the approval of Vyvgart, read the company's press release. For more information about the ADAPT trial, visit ClinicalTrials.gov and enter "NCT03669588" into the search box.
MDA's Resource Center provides support, guidance, and resources for patients and families, including information about the approval of Vyvgart, open clinical trials, and other services. Contact the MDA Resource Center at 1-833-ASK-MDA1 or ResourceCenter@mdausa.org.
Disclaimer: No content on this site should ever be used as a substitute for direct medical advice from your doctor or other qualified clinician.