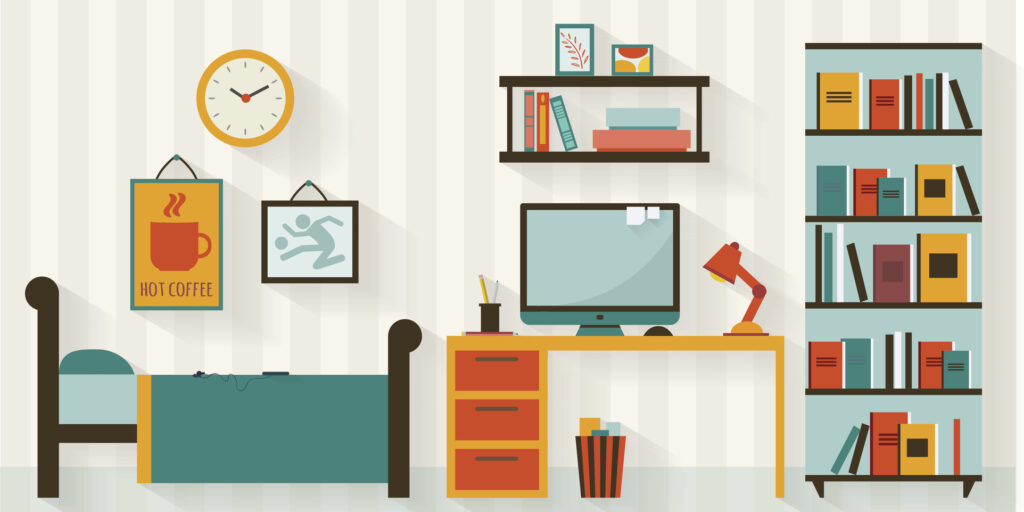 How to Deck Out Your Dorm Room for Accessibility
By Rebecca Hume | Wednesday, July 12, 2023
With fall semester around the corner, many college-bound freshman are beginning to prepare to move to campus for the first time. College life offers students a new adventure as they increase independence, pursue interests and passions, make new friends, and grow as individuals. And a lot of that takes place in the dorms! For many students, freshman year is their first experience living away from parents and family. Dorm life is a unique opportunity to transition to adulthood surrounded by others who are taking the same steps in finding out who they are.
Amidst the perks of independence and adventure, there are also challenges to living in a new, small space on your own. Navigating dorm living requires planning, preparation, and a few hacks. This is especially true for those living with physical disabilities who need to consider how to keep essential objects within reach, how to maintain open floor space, how to increase independence, and how to gain general accessibility accommodations.
Ensuring accessibility
Students living with disabilities should connect with their college or university's Office for Students with Disabilities prior to dorm assignment and move-in day. These offices work with students to ensure that their living assignments and classroom assignments are accessible to each individual's unique needs. While some schools may be more proactive than others in predicting various needs, students and parents should advocate for accommodations. When doing so, consider accessible bathroom needs, appropriate furniture, and the ability to independently enter and exit buildings and dorm rooms.
Some considerations might include asking for a bed to be raised or lowered, asking to have closet rods lowered, considering if bed rail or grab bar installation might be required, considering the use of a personal emergency response system, and ensuring that the size of the room allows for optimal wheelchair maneuvering.
Making the most of your space
One of the biggest challenges that all students face when it comes to living in a dorm room is that space is limited.  Getting creative with storage options and making the most of a small space can prevent clutter and obstacles.
Letting your personality shine
Dorm life is about gaining independence, growing as an individual, and having new experiences with new friends. With friends often hanging out in each other's dorm rooms, how you decorate your space offers an opportunity for you to express yourself and share your personality.
Choose sheets, blankets, towels, etc. in colors and patterns that showcase your personality and taste.
Bring posters, banners, photos, and other decor to add personal style and flair to your room. Check with your school to determine what you are allowed to use for hanging personal items on the wall. Command Velcro strips and poster putty are usually dorm-friendly options because they are easy to remove without causing damage to the walls.
For personal photos, consider opting for a digital photo frame that take up limited surface space or can be hung on the wall. Digital frames can hold hundreds of photos on one screen, keeping one picture on display at a time or presenting a slideshow multiple favorite photos. These are great for sharing your story with new friends and adding photos throughout the year as you make new memories.
Putting the "fun" in functional
Decorating a new living space is a lot of fun. Décor can also be functional. Creative options can add to aesthetics while increasing accessibility and comfort.
Remote control lights make it easier to adjust light settings in your room and to turn on and off without having to travel to a light switch. Fun options like color LED light strips, fairy lights, and colored puck lights add personality to your room. Some allow you to control from your phone, easily changing colors, patterns, and brightness.
A Bedshelfie bedside shelf is a great option for keeping essential items, food, and drinks within easy reach while you are in bed, without having to take up floor space. Designed with small space and dorm living in mind, these aesthetically appealing shelves come in a variety of materials, colors, and designs.
Minifridges are popular dorm room staples for storing beverages and snacks. Fun magnets and photos can turn a minifridge into another outlet of expression. And for students with disabilities, a refrigerator can be useful for medications that require cold storage.
Of course, dorm life also includes study time! Many students share their living space with roommates, which can make it challenging to find quiet time to focus. You can create your own peace and quiet with noise canceling headphones. Some options, like Soundcore Anker Life Q20, also act as Bluetooth stereo headphones and can be used to listen to music, podcasts, or watch your favorite shows without disturbing your roommates while they are studying.
Bonus tips and products for students on-the-go
Outside of the dorms, students spend a lot of time on campus each day. Between classes, mealtimes, and socializing, many students are away from their dorm rooms for extended periods of time. These go-anywhere travel tips and products can provide easy access to essentials while on the go.
---
Next Steps and Useful Resources
Disclaimer: No content on this site should ever be used as a substitute for direct medical advice from your doctor or other qualified clinician.