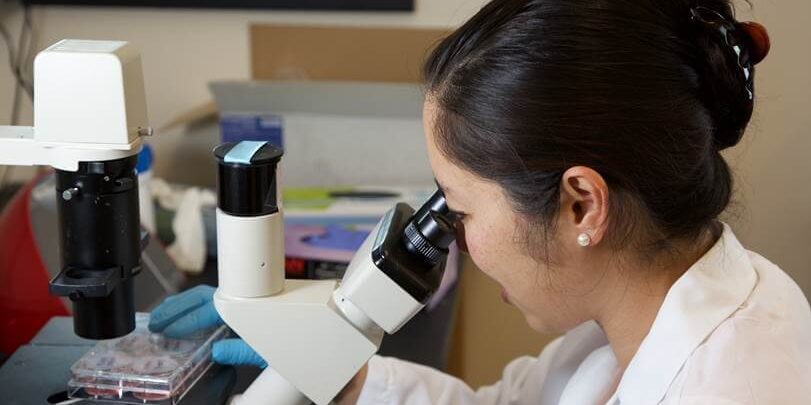 International Day of Women and Girls in Science: MDA's Spotlight on Dr. Angela Lek
By Rebecca Hume | Thursday, February 10, 2022
In recognition of International Day of Women and Girls in Science, the Muscular Dystrophy Association (MDA) is honored and excited to highlight the career and accomplishments of Dr. Angela Lek, PhD. International Women and Girls in Science Day, February 11, endeavors to acknowledge and celebrate the invaluable role that women and girls play in accelerating change and discovery in the professional realm of science, technology, engineering, and math (STEM). Lek's research and discoveries have provided monumental inroads to better understanding the cause – and potential treatment – of both limb girdle muscular dystrophy (LGMD) and fascioscapulohumeral muscular dystrophy (FSHD). Her commitment to neuromuscular research speaks of a deep passion for science and progress. A passion that she continues to share with our community as the Vice President for Research at MDA.
Born in Singapore, Lek spent the first few years of her life in Indonesia before moving to Australia, where she lived for 20 years. She obtained a degree in Bioinformatics at the University of New South Wales and then completed her PhD in cell and molecular biology at the University of Sydney. Lek relocated to the United States and completed her postdoctoral training in the laboratory of Prof. Kunkel at Boston Children's Hospital, Harvard Medical School. She then served in a faculty position at Yale University for several years, before accepting her current position at MDA.
Lek shares her journey, research, professional experience, personal motivation, and insight about being a woman in science below.
What is your area of research and what accomplishments have you achieved in your career thus far?
During my PhD training, I investigated the function of a gene called dysferlin to better understand its role in causing limb girdle type 2B. I discovered that dysferlin plays a role in responding to muscle membrane injury and interacts with other specialized proteins to initiate a vital repair response to prevent muscle degeneration. During my postdoc training, I worked on better understanding the disease pathways leading to facioscapulohumeral dystrophy (FSHD), as well as establishing a zebrafish model of the disease.
I used cutting-edge CRISPR gene-editing technology to perform a genetic screen and identified specific pathways that prevented muscle cell death in the context of FSHD. I then followed up these findings by using existing drugs to inhibit these pathways, which proved to be therapeutic in patient cells as well as our zebrafish model of the disease. These novel class of drugs are now being followed up by members of the Lek Lab at Yale University as potential treatment for FSHD.
When did you become interested in medical research, and – subsequently – neuromuscular disease?
I became interested in research when my husband (then boyfriend) was diagnosed with muscular dystrophy. His diagnosis and lack of treatment options prompted me to read a lot of literature on muscular dystrophies, which in turn sparked my curiosity and solidified my decision to pursue scientific research.
It is a long and intense road to complete your level of education. What would your advice be to young girls who are interested in STEM but have reservations about the amount of education required?
Yes – it is a very arduous journey, but with many rewards along the way. To be the first to observe a particular phenomenon under the microscope or to make a novel link between the function of two genes is priceless. There is no other career path quite like research, where you are literally pushing the boundaries of human knowledge. I think that if science is truly for you, then you will enjoy the journey instead of being too concerned about the length of it.
Were there people along the way who were role models that motivated or encouraged you to go into this field?
In hindsight, there were several key figures in my life who instilled my love for science. The first is my high school physics teacher, someone who truly spoke with passion about the natural world. The second is a fictional character from the X-files tv series. I was obsessed with Dana Scully and her investigative skills – she made science, particularly knowledge of human biology appear very cool. Third, I had a PhD supervisor who was very passionate and driven to find an explanation for every piece of experimental data. Her out-of-the-box thinking style has had the biggest influence in shaping the way I approach scientific questions.
As a young girl, what did you want to be when you grew up?
A crime-solving detective. In many ways I am a detective – just solving scientific mysteries instead of crime.
What has been the most rewarding part of your career?
Having a hypothesis about something and finding that the answer is not 'yes' or 'no' but 'none of the above: something unexpected', which in turn leads to a paradigm shift in the field.
Unexpected findings which totally change the way you and everyone else have been thinking about a particular problem in the field is very exhilarating. I also very much enjoy the sense of camaraderie in the field where you are surrounded by like-minded scientists who are all working together to solve a particular problem.
Why do you think women make great STEM professionals?
Women excel at mentoring the next generation of researchers in STEM professions, often providing a supportive environment for learning where there is an emphasis on development of not only STEM-related skills but also important professional skills.
What advice would you give young women who are considering a career in STEM?
Developing a strong sense of self and confidence in your abilities is essential for success in STEM fields, where there are limited number of women in leadership positions. In this environment, it is very easy for women to suffer from imposter syndrome. To prepare for this, my advice is to surround yourself with nurturing mentors as well as a strong professional network of supportive colleagues.
Disclaimer: No content on this site should ever be used as a substitute for direct medical advice from your doctor or other qualified clinician.