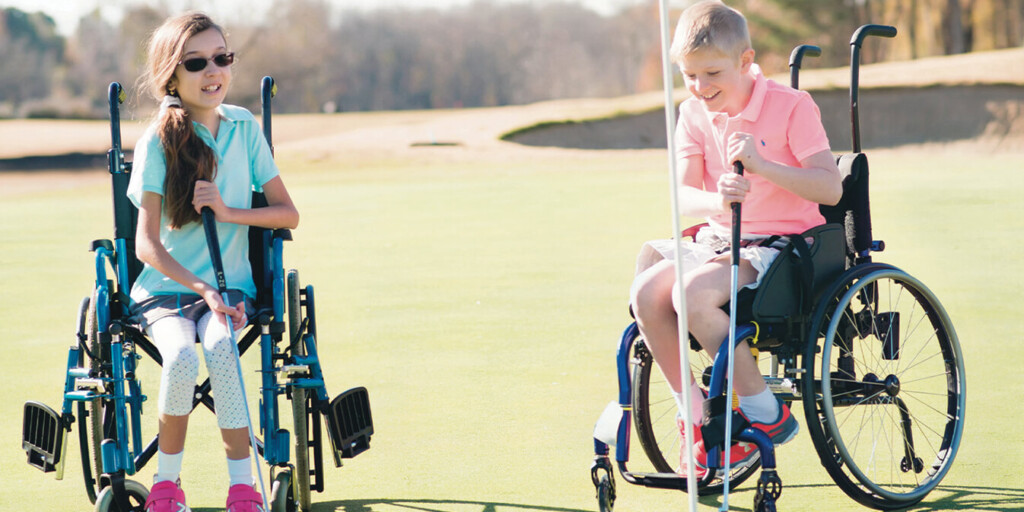 The Benefits of Getting Kids Involved in Adaptive Sports
By Elizabeth Millard | Tuesday, July 13, 2021
When Kristine Welker's son was young, he wanted to be as involved in sports as everyone else in the family — and that meant a high level of activity, from biking and boating to organized sports and running. 
"Our son is our third child and by the time he came along, we figured he'd follow along," says Kristine, who is MDA's chief of staff. "But he struggled to keep pace and we didn't understand why until he was diagnosed with Becker muscular dystrophy (BMD). By then, he'd been frustrated trying to find a sport he liked. You can't underestimate the psychological toll a child feels from being last on the field, running behind everyone else."
Finally, in his teens, Kristine's son tried skiing in a new way, and he flew down the mountains.
"With his condition, the doctors said it was like he was walking around with weights on, so that made other sports difficult," she recalls. "With skiing, there was a sense of weightlessness that he loved. There was speed and independence, and everything he hadn't gotten before. He found out what it meant to love movement, and that's been huge." With a range of adaptive equipment available in the sport, Kristine knows he'll be able to keep skiing as his condition progresses.
Helping children and teens find joy in movement is what adaptive sports is all about. Adaptive sports are activities done with modifications — ranging from small equipment tweaks to larger-scale specialized gear — and include a breadth of sports: cycling, golf, water skiing, tennis, and basketball, to name a few. From fencing to scuba diving, there are ways to modify just about any sport so it's open to all.
Top benefits
Getting kids and teens involved in adaptive sports can be a boost on multiple levels. Not only do they gain more endurance and muscle mass from the exercise, but consistent activity also helps improve mental health.
"As a physical therapist who sees many individuals with neuromuscular disease, I know about the mental health challenges that can come with a condition," says Melissa McIntyre, DPT, at the University of Utah. "Sports can be incredibly beneficial for lifting you up, making you feel a sense of accomplishment and fun, and it can also be another part of your identity. A diagnosis can feel like who you are, not just what you have. But you can expand that. You can be a sailor, a skier, a rock climber."
Jason Cline, director of operations for Adaptive Sports Program New Mexico, has seen how sports boost confidence. His program offers recreational activities like indoor and outdoor rock climbing, river rafting, and skiing.  
"Many individuals with a disability feel hesitant to try new sports or activities, but an adaptive sports program like ours is a safe space," Jason says. "That gives them assurance from the start and takes away a lot of that nervousness."
Another major benefit, he adds, is that participants tend to bond with each other. He's seen people come from hundreds of miles away for Adaptive Sports Program New Mexico's events and end up with lifelong friends.
"Families get to meet other families through adaptive sports, and that's important for finding support and connections," says Jason. "That happens with the kids, but also with the parents and siblings. These sports just naturally bring people together."
First steps
Here's how to start if you're looking to get your kid or teen involved in adaptive sports:
Ask your child. Learn what they find most exciting or interesting. "Our son tried every sport; he really wanted to be active," Kristine says. "We told him that it's great to try, but if you don't want to play these, you don't have to do it. Forcing yourself into an activity isn't the way to go."
Talk with your child's physical therapist. They often know local resources or can research adaptive equipment. Regular youth sports might be able to be adapted as well, so talk with your school's coaches or physical education teachers about options. "Even complex physical limitations can often be addressed, especially with an adaptive sports program," Melissa says. "There is so much innovation out there. It's not available all over the country, but when you start spreading the word about wanting an adaptive option, you tend to find the resources you need."
Get the whole family involved. A program that allows families to participate together in several activities, such as climbing, kayaking, archery, hiking, and swimming, is a good way to ease into sports. That way, your child can get exposed to a wide range of activities and figure out what they like and want to pursue. Plus, you'll simply have fun together being active. "When you're enjoying yourself, feeling that sense of adventure and moving your body, it really brings a sense of freedom," Jason says. "That creates a ripple effect in all aspects of your life."
Adaptive Sports Resources:
Challenged Athletes Foundation: Find a list of national and state adaptive sports organizations.
Move United: This nonprofit is focused on the promotion of parasports among young people and adults with physical disabilities. It operates community programs, with more than 150 chapters across the country. 
National Ability Center: Located in Utah, this organization has camps in three locations and offers numerous programs for outdoor recreation, including mountain biking, paddle sports, and archery.
Watch the July 2021 Facebook Live presentation Adaptive Recreation, featuring Jeffrey Rosenbluth, MD, of the University of Utah Health Science Center & TRAILS program; Laurie Browne, PhD, of the American Camp Association; and Amy Shinneman, an MDA Ambassador and advocate. Find more presentations and updates at facebook.com/mdaorg.
Disclaimer: No content on this site should ever be used as a substitute for direct medical advice from your doctor or other qualified clinician.