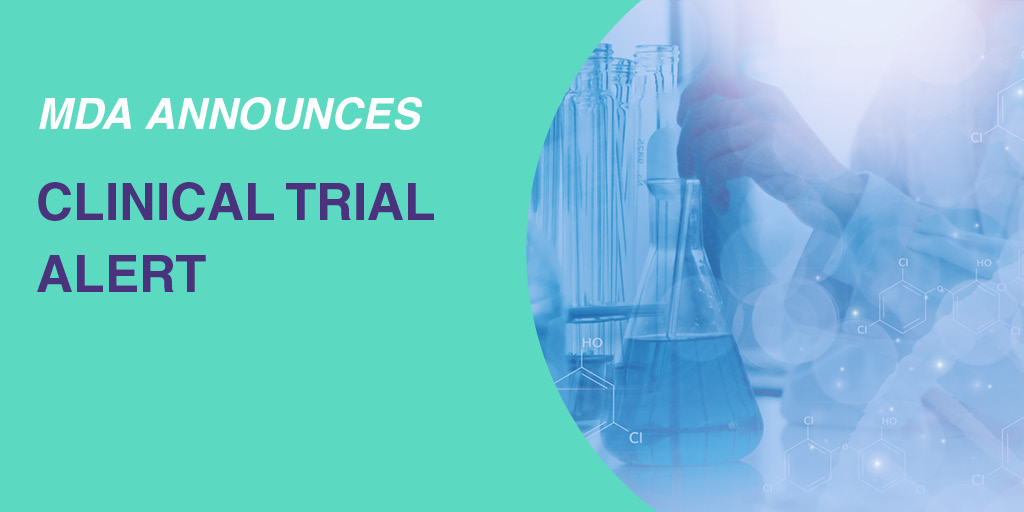 Clinical Trial Alert: Phase 2 Study of Oral Ifetroban in Individuals with DMD
By Sujatha Gurunathan | Wednesday, August 10, 2022
Researchers at Cumberland Pharmaceuticals Inc. are seeking boys and men living with Duchenne muscular dystrophy (DMD) to participate in a phase 2 clinical trial to evaluate the safety, and efficacy of oral ifetroban to treat the heart disease associated with DMD. Oral ifetroban is being evaluated for the ability to protect the heart from scarring and maintain normal heart function in people with DMD.
This study is a multicenter, randomized, double-blind, placebo-controlled, 12-month study, with an optional open-label extension. This means that participants will be randomly assigned to either receive low-dose or high-dose ifetroban or an inactive placebo control over the course of the study. Each treatment group will include eight participants with early-stage (defined as left ventricular ejection fraction (LVEF) of >45%) DMD heart disease and eight participants with advance-stage (defined as LVEF 35-45%) DMD heart disease, and the treatment period is a maximum of 12 months. Participants who complete 12 months of treatment will be eligible to participate in an open-label period in which all eligible participants will have the opportunity to receive ifetroban. The total trial duration for each participant will be 12 months, and participants will be required to complete three doctor visits at months 0, 6, and 12 during the study period.
The drug/placebo will be administered once daily as an oral capsule (dime sized). The effect of oral ifetroban will be evaluated by five tests at each of 3 visits: cardiac MRI, pulmonary function test, quantitative muscle strength test, measurement of daily activity for seven days using a wrist-worn actigraph, and quality-of-life questionnaires.  A finger-stick test will be performed at the center and at home to detect ifetroban and its metabolite levels. 
To be eligible, individuals must meet the following inclusion criteria:
Males 7 years of age and older with a diagnosis of DMD
Stable dose of oral corticosteroids for at least 8 weeks OR no corticosteroids for at least 30 days
All FDA approved exon-skipping therapies are permitted
Stable cardiac function, including those on stable cardiac medications

Concurrent angiotensin-converting enzyme inhibitors (ACEI), beta-blocker (BB) or angiotensin receptor blocker (ARB) therapy allowed (selection dictated by clinical care) if started three months or greater prior to first study dose
Aldosterone receptor antagonists (e.g., spironolactone or eplerenone) allowed if started 12 months or greater from first study dose. No changes throughout the study allowed

For participants aged 18 years and older, informed consent obtained directly
For participants ages 7–17 years old, both assent from the subject and permission from a parent or guardian
Individuals may not be eligible to participate if they are affected by another illness or receiving another treatment that might interfere with the ability to undergo safe testing.
Please visit this link NCT03340675 for the full listing of inclusion and exclusion criteria.
Travel support and participant stipend provided for time and effort. 
To learn more about the study or inquire about participation, please visit the sponsor's trial website here or contact the study coordinator Ingrid Anderson, PhD by email: ianderson@cumberlandpharma.com or phone: 615-627-4121.
Disclaimer: No content on this site should ever be used as a substitute for direct medical advice from your doctor or other qualified clinician.