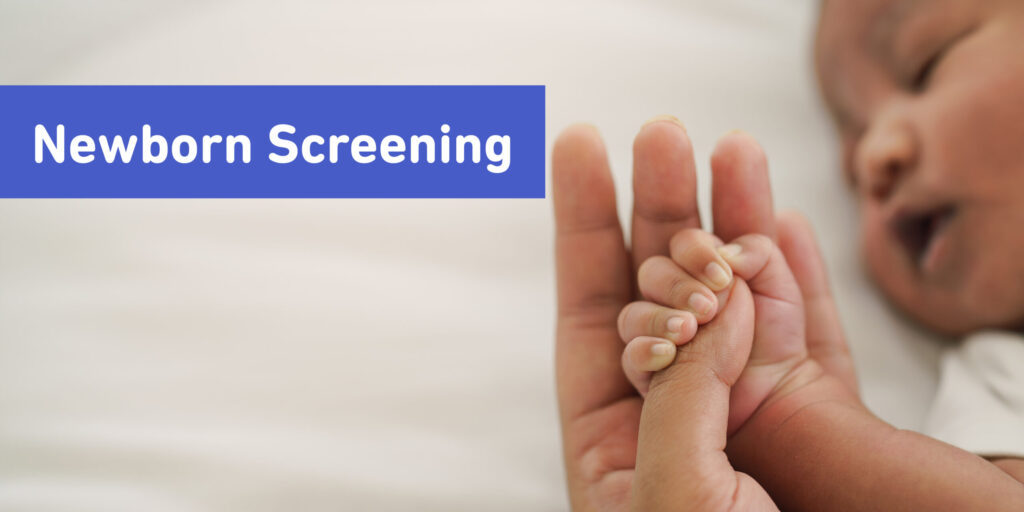 MDA Continues to Lead the Way on Newborn Screening
By Paul Melmeyer | Friday, September 1, 2023
It is well known that the earlier a disease is diagnosed and treated, the better the outcomes. Consequently, for neuromuscular diseases, where damage to the muscle, neurons, or sometimes both, causes irreversible (at least at present) damage, an earlier diagnosis is critical.
This is precisely why newborn screening, a public health program in which babies are screened for a variety of mostly genetic, treatable, but otherwise largely undetectable diseases within the first 24-48 hours of life to facilitate rapid treatment administration thereafter, saves lives.
Already most states (newborn screening programs are run independently by each state) are screening for spinal muscular atrophy (SMA) and Pompe disease (see the most recent update here), and excitingly, some states are preparing to screen for Duchenne muscular dystrophy (DMD). Ohio is expected to start screening for DMD early next year, and New York's legislature recently passed a bill to add DMD to their newborn screening panel as well (the legislation awaits Governor Hochul's signature).
While each of these state-by-state efforts are necessary, MDA has been focusing on the bigger picture, namely the Federal government's efforts to expand and strengthen our newborn screening ecosystem. For example, the Secretary's Advisory Committee on Heritable Disorders in Newborns and Children, operated by the Health Resources and Services Administration, publishes a Recommended Uniform Screening Panel (RUSP) in which each disease on the panel has been carefully evaluated for newborn screening appropriateness and is then recommended to states to adopt.
In June of last year, MDA co-sponsored the nomination of DMD to the RUSP with our collaborators at Parent Project Muscular Dystrophy, and after a re-nomination, additional information submission, several testimonies at public meetings, and more, the package finally was voted on to the next stage of review on August 10th. Core elements of the nominating package include the MDA-funded RTI International Early Check pilot study in which thousands of babies born in North Carolina were screened for Duchenne.
Beyond our efforts in Duchenne, MDA is leading the effort to strengthen the newborn screening ecosystem more broadly, and address challenges brought on by inadequate state and Federal funding, evolving concerns on the secondary use of bloodspot samples taken from newborn screening (particularly by law enforcement), and the role of genetic testing in newborn screening. Late last year, we successfully commissioned a study from the National Academies of Science, Engineering, and Medicine to explore the future of newborn screening. MDA co-leads efforts to introduce and enact the Newborn Screening Saves Lives Reauthorization Act, and with our partners, have successfully increased funding by millions of dollars to Federal newborn screening programs.
Newborn screening saves lives. It has already transformed the lives of every individual born with SMA and Pompe disease and could soon do the same for those born with DMD. We will continue our efforts to strengthen and expand the program in every way we can.
You can join MDA's efforts by signing up to be a grassroots advocate at www.mda.org/advocacy !
---
Next Steps and Useful Resources
CATEGORY:
Advocacy
,
Health
,
Inclusion
,
News
TAGS:
Advocacy Updates
,
Caregiving
,
Community
,
Genetic Testing
,
Healthcare
,
Innovation
,
Newborn Screening
,
Parenting
TYPE:
Blog Post
Disclaimer: No content on this site should ever be used as a substitute for direct medical advice from your doctor or other qualified clinician.